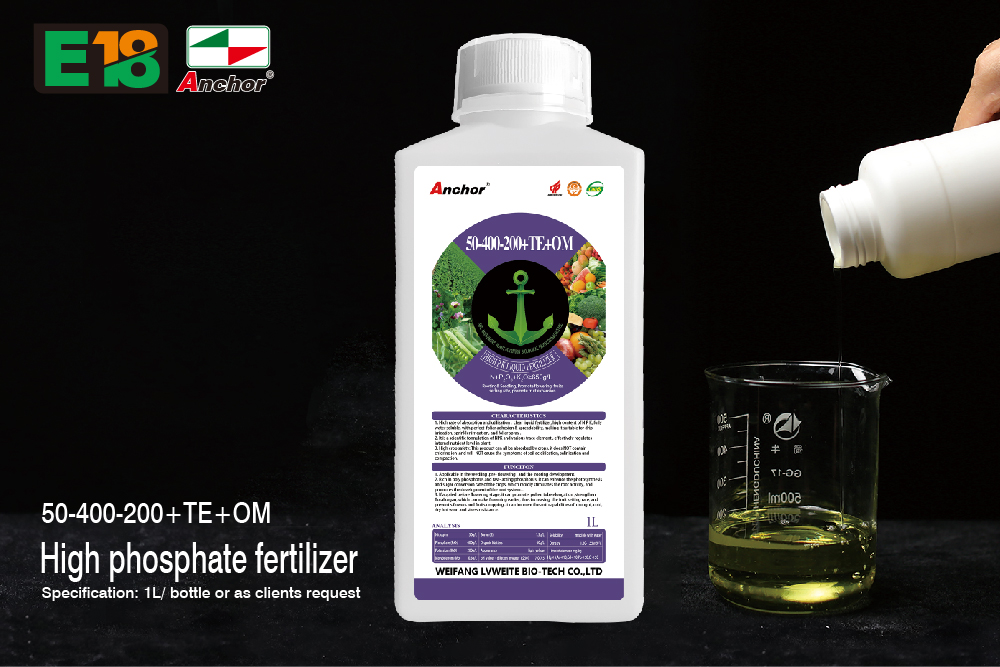 CHARACTERISTICS
1. High rate of absorption and utilization : clear liquid fertilizer, high content of N P K, fully water soluble, with perfect foliar adhesion & spreadability, making it suitable for drip irrigation, sprinkler irrigation, and foliar spray .
2. It is a scientific formulation of NPK and various trace element , effectively regulates internal nutrient level in plant.
3. High crop safety: This product can all be absorbed by crops, it does NOT contain chlorine ion ,and will NOT cause the symptoms of soil acidification, salinization and compaction.
---
FUNCTION
1. Applicable in the seedling ,pre- flowering , and the rooting development.
2. Rich in poly phosphorus and fast- acting phosphorus, it can enhance the photosynthesis and sugar conversion rate of the crops, which rapidly stimulates the root activity, and promotes the development of the root system. .
3. If applied before flowering stage, it can promote pollen tube elongation ,strengthen floral organ, which can make flowering earlier, thus increasing the fruit setting rate, and prevent s flowers and fruits dropping .It can improve the anti capabilities of drought, cold, dry hot wind and stress resistance.
---
Some crops
1. Foliar Spray: Dilute sage and frequency according to the local climate, soil conditions, crops and fertilization levelby 800-1000 times, foliar spray the leaves back and forth and the whole plant
2. Drip irrigation: Dilute by 800-1000 times , apply 15-30L / Ha , Drip water 5 miutes after drip the solution
3. Apply 3-4 times at Fruit or vegetable seedling stage / pre flowering / rooting stage or Phosphate required period , apply intervals should be 10-15 days or so
4. Increase or decrease the do
ANALYSIS
| | |
| --- | --- |
| Nitrogen(N) | 50g/L |
| Phosphate(P2O5) | 400g/L |
| Potassium (K2O) | 200g/L |
| Molybdenum(EDTA-Mo) | 0.5g/L |
| Boron(B) | 1.5g/L |
| Organic Matters (OM) | 60g/L |
| Appearance | Light yellow |
| PH value( dilution in water 1:250 | 7.0-7.5 |
| Solubility | miscible with water |
| Density@20℃ | 1.50-1.55 |
| Limited element mg/kg | Hg≤5, As≤10,Cd≤10,Pb≤50,Cr≤50 |