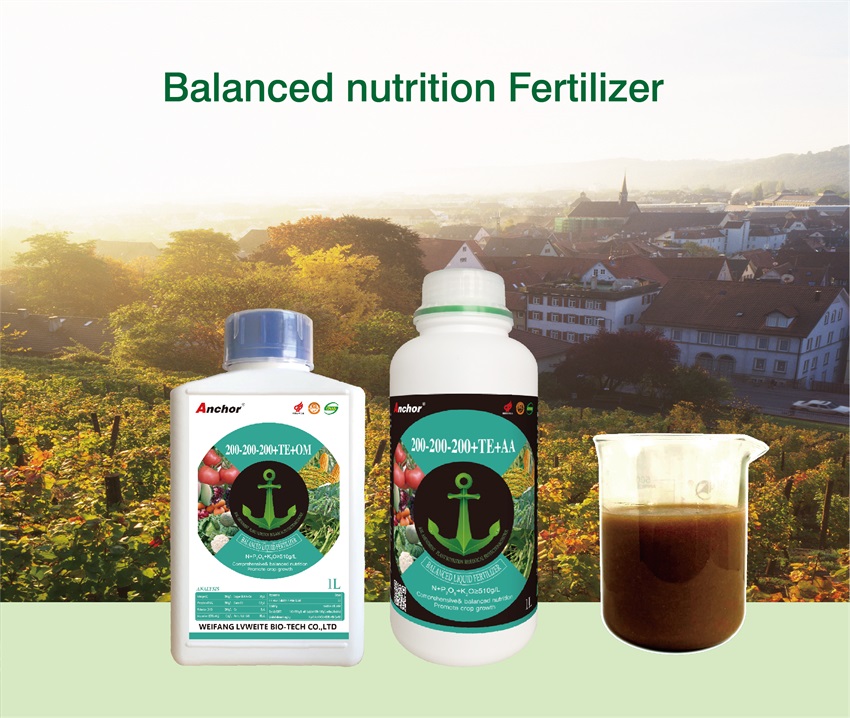 CHARACTERISTICS
1. Clear liquid fertilizer, fully water soluble, with good foliar adhesion & spreadability, high rate of absorption and utilization, suitable for drip irrigation, sprinkler irrigation, and foliar spray in various growth stages of crops
2. High and balanced content of nutrients, contains ammonium nitrogen, nitrate nitrogen and amide nitrogen with scientific ratios, suitable for absorption and utilization at various stage of crops. Poly-phosphate with polymerization degrees of 2-6 has absorption rates 3-5 times as common as phosphate fertilizer . Full complements of trace element promotes healthy growth for crops . Organic carbon nutrients rich in photosynthesis energy promotes absorption and utilization of nutrients for crops, improving the quality and enhancing the resistance of crops.
3. This product can completely be absorbed by crops . It does NOT contain chlorine ion, so improves the symptoms of acidification, salinization and compaction on soils.
---
FUNCTION
1. Provides mineral nutrients in various growth stages of crops and can correct element deficiency and promotes growth of crops.
2. Improves the nutrients absorption capacity of crops , with improved quality and yield.
3. The buffer ion in this formulation can adjust the pH of soils, so it improves the soil rhizosphere environments. The organic matter in this formulation can promote the soil nutrient absorption and utilization of the roots ,and improve the soil microbial environment.
---
Some crops
Crop


Recommend to use
Peas and beans, green beans, black beans, pigeonpea ,cowpeas, chickpeas, soybeans, etc.

Foliar spray 500-600 times

Drip irrigation :300 times

Use once every 10-15 days

3-4 times continuous works better

Bananas, pineapples, papayas, mangoes, apples, grapes and other fruits

Foliar spray 800-1000 times

Use once every 10-15 days

3-4 times continuous works better

Citrus,orange

Foliar spray 800-1000 times

Use once every 10-15 days

3-4 times continuous works better

Watermelon, melon, etc

Foliar spray 800-1000 times

Drip irrigation :400 times

Use once every 10-15 days

3-4 times continuous works better

Cabbage, celery, baby dish, etc

Foliar spray 600-800 times

Drip irrigation :300 times

Use once every 10-15 days

3-4 times continuous works better

Potato, sweet potato, Taro, etc

Foliar spray 500-600 times

Drip irrigation :300 times

Use once every 10-15 days

3-4 times continuous works better

Tomato, pepper, eggplant, etc

Foliar spray 500-600 times

Drip irrigation :300 times

Use once every 10-15 days

3-4 times continuous works better

Rice or paddy

Foliar spray 800-1000 times

Use once every 10-15 days

3-4 times continuous works better

Cocoa and coffee

Foliar spray 500-600 times

Use once every 10-15 days

3-4 times continuous works better
ANALYSIS
| | | |
| --- | --- | --- |
| Nitrogen(N) | | 200g/L |
| Phosphate (P2O5) | | 200g/L |
| Potassium (K2O) | | 200g/L |
| Magnesium (EDTA-Mg) | | 0.1g/L |
| Copper (EDTA-Cu) | | 0.1g/L |
| Boron (B) | | 0.2g/L |
| Ca | | 2g/L |
| Amino Acid | | 60g/L |
| Appearance | | Brown |
| PH value( dilution in water 1:250 | | 3.7 |
| Solubility | | miscible with water |
| Density@20℃ | | 1.45-1.55 g/L with bubble( 1.60-1.65g/L without bubble) |
| Limited element mg/kg | | Hg≤5, As≤10,Cd≤10,Pb≤50,Cr≤50 |