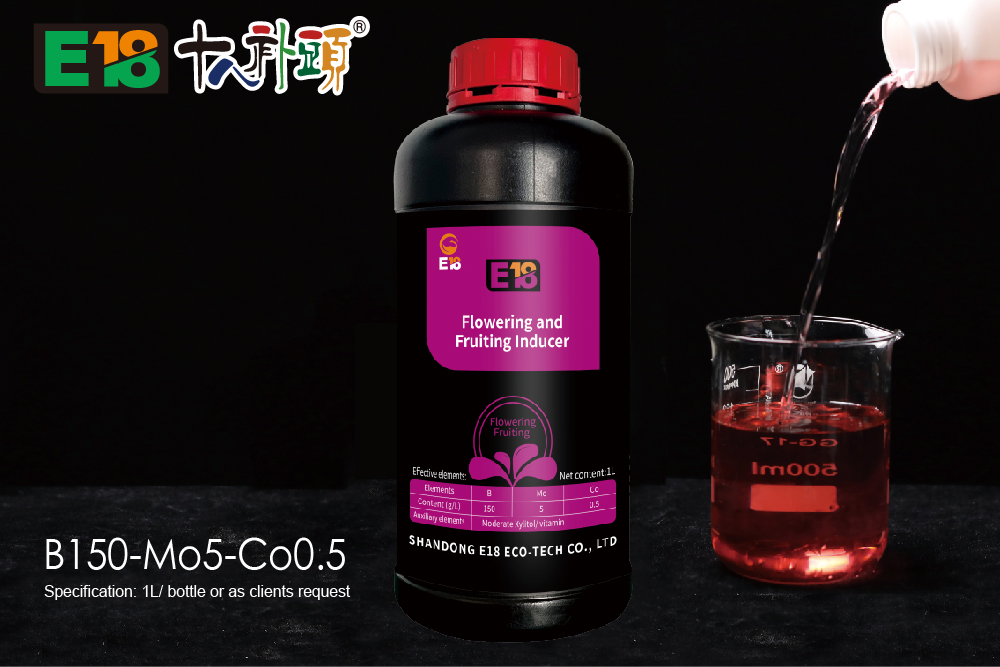 Characteristics
1. This product is a pure nutrional preparation .It doesn't contain any hormone component . And it's highly safe to use .
2. The purity of Chilean boron is very high . It moves fast and can be well absorbed . After using it , the flowering of the crop will be more robust , the germination of pollen grains will be facilitated and the pollen tube will be extended . So the fruit set rate will be increased highly . It can prevent a variety of fruit nutritional disorders . Such as flowers but not seeds , bud but not flower , fruit core rot , reduction of fruit size , granulation of fruit , fruit cork , hardened fruit and so on .
3. The compound binding of molybdenum and cobalt is a kind of power promoting agent . It can improve the ability of the plant to fix nitrogen . It can enhance the activity of root system . It can also enhance the viability of the pollen . It helps to produce nitrogenase , xanthine dehydrogenase and nitrate reductase . It can not only promote the vegetative growth of crops , but also the reproductive growth of crops . So it has a good effect of improving quality and increasing production .
Function
1. Promotes flowering , pollen germination and extending pollen tubes , and increases the fruit setting rate , prevents heart rot , fruit shrinkage , and etc caused by Boron deficiency.
2. Helps absorption of Boron for root system , stabilize the cell to get nice good fruit .
3. Prevents the phenomenon of sugar concentration , thickening and deformation of the leaf , and the crack of the petiole . It helps reduce the uneven yields between years .
---
Recommendations for use
Crop
Application stage

Application

method

Rate(I/ha)

Dilution

times

Application

interval

Remarks
vegetables
pre-bloom
Foliar spray
2
1000
7-10days
Increase or decrease the dosage and frequency according to the local climate,soilconditions,crops and fertilization level.
Fruit trees
2
1000
All crops

field

flight

defence

0.5

T30

500mL in 15kg of water

1/3

T40

500mL in 20kg of water
ANALYSIS
| Analysis | | Wt/Vol |
| --- | --- | --- |
| Boron (B) | | 150g/L |
| Molybdenum(Mo) | | 5g/L |
| Cobalt(Co) | | 0.5g/L |
| Appearance | | Pink |
| PH value( dilution in water 1:250) | | 7.5-8.5 |
| Solubility | | miscible with water |
| Density @20℃ | | 1.35-1.40 |
| Limited element mg/kg | | Hg≤5, As≤10,Cd≤10,Pb≤50,Cr≤50 |