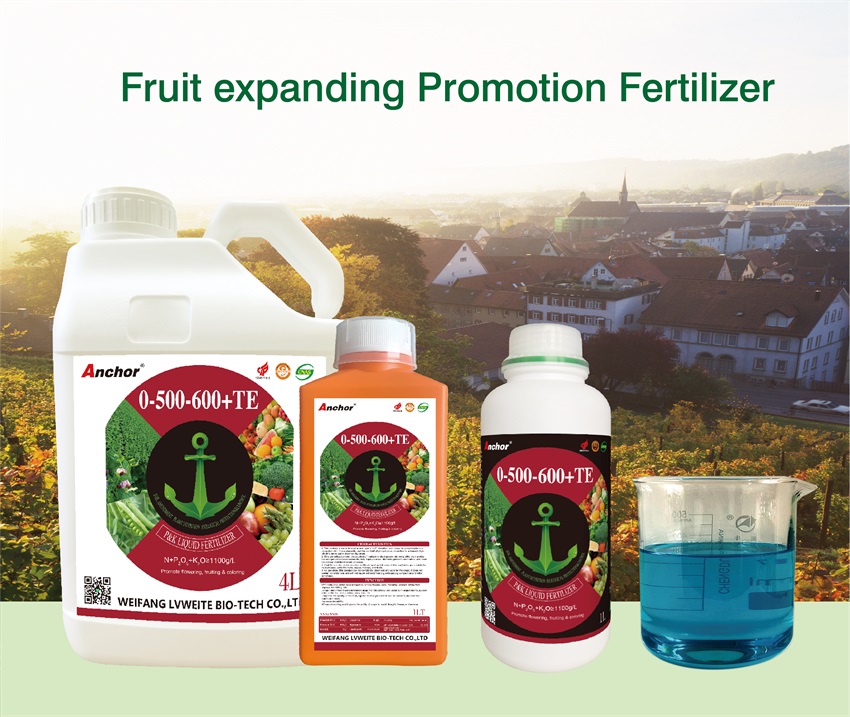 CHARACTERISTICS
This product is made through a new type of LVT chelation technology by polyphosphorous potassium with trace elements, and the content of phosphorous potassium is extremely high, which is more easily absorbed by crops;
Efficient utilization rate: the addition of multiple chelating trace elements effectively avoids the antagonism between elements, fully deploy various elements, promote each other, and meet the various nutritional needs of crops;
High Safety : full water solution, no blocking of sprinklers and drip capillaries, pure nutrients, no hormones, safer for roots, leaves, flowers, and fruits.
No pollution :This product can be completely absorbed and used by the crops. It does not contain chloride ions and will not cause soil acidification, salinization, compaction and other symptoms.
---
FUNCTION
1.Promote crop pollen tube elongation, strong flowers, early flowering, prevent falling fruit, improve the sitting rate.
2.Rapid and efficient complementary crops for phosphorus and potassium requirements, quickly enlarge the fruit and coloring, early maturity.
3.Improve the quality of the fruit,Improve fruit sugar content and VC content, improve fruit quality and yield.
increase storability.
4.Promote rooting and improve the ability of crops to resist drought, freeze, and reverse.
---
Some crops
Crop


Recommend to use
Peas and beans, green beans, black beans, pigeonpea ,cowpeas, chickpeas, soybeans, etc.

Foliar spray 500-600 times

Drip irrigation :300 times

Use once every 10-15 days

3-4 times continuous works better

Bananas, pineapples, papayas, mangoes, apples, grapes and other fruits

Foliar spray 800-1000 times

Use once every 10-15 days

3-4 times continuous works better

Citrus,orange

Foliar spray 800-1000 times

Use once every 10-15 days

3-4 times continuous works better

Watermelon, melon, etc

Foliar spray 800-1000 times

Drip irrigation :400 times

Use once every 10-15 days

3-4 times continuous works better

Cabbage, celery, baby dish, etc

Foliar spray 600-800 times

Drip irrigation :300 times

Use once every 10-15 days

3-4 times continuous works better

Potato, sweet potato, Taro, etc

Foliar spray 500-600 times

Drip irrigation :300 times

Use once every 10-15 days

3-4 times continuous works better

Tomato, pepper, eggplant, etc

Foliar spray 500-600 times

Drip irrigation :300 times

Use once every 10-15 days

3-4 times continuous works better

Rice or paddy

Foliar spray 800-1000 times

Use once every 10-15 days

3-4 times continuous works better

Cocoa and coffee

Foliar spray 500-600 times

Use once every 10-15 days

3-4 times continuous works better
ANALYSIS
| | | |
| --- | --- | --- |
| Phosphate ( P2O5) | 500g/L | 28.57% |
| Potassium(K2O) | 600g/L | 34.28% |
| Copper ( EDTA-Cu) | 0.3g/L | 0.017% |
| Boron (B) | 2g/L | 0.114% |
| Appearance | | Blue |
| PH value( dilution in water 1:250 | | 7.0-8.0 |
| Solubility | | miscible with water |
| Density@20℃ | | 1.75-1.80g/mL |
| Limited element mg/kg | | Hg≤5, As≤10,Cd≤10,Pb≤50,Cr≤50 |