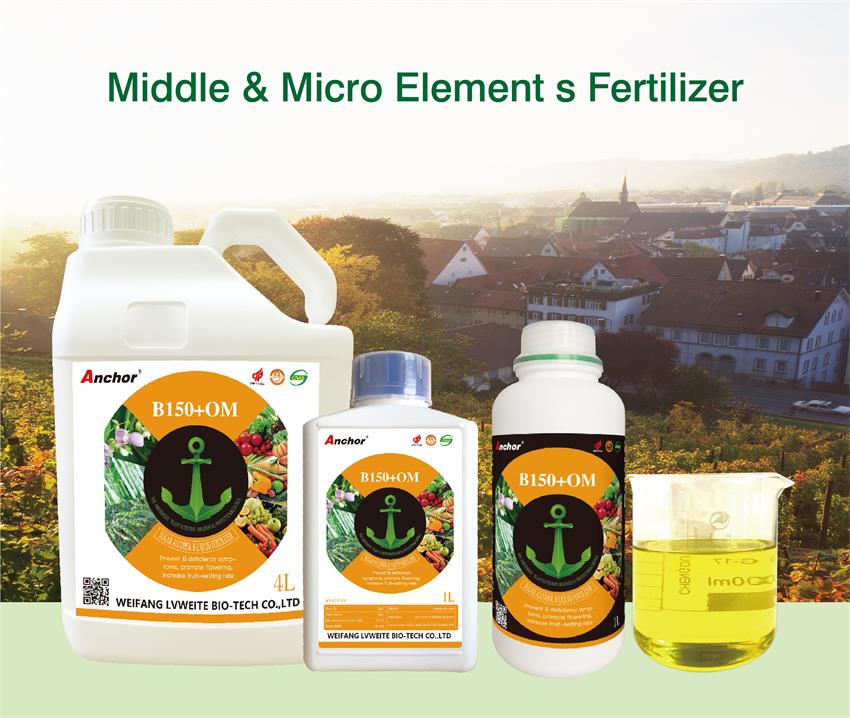 Characteristics
1 This product is produced from organic chelating technology, giving it good spreadability and mobility, that can quickly penetrate the waxy skin of leaves, and help the absorption and utilization for the crop.
2 This product has good compatibility , and can mix with most pesticides and fertilize for application.
3 Easy to dilute in water, and convenient to use.
Function
1 Promotes flowering, pollen germination and extending pollen tubes , and increases the fruit setting rate, prevents heart rot, fruit shrinkage,and etc caused by Boron deficiency .
2 Helps absorption of Boron for root system, stabilize the cell to get nice good fruit.
3 Prevents the phenomenon of sugar concentration , thickening , and deformation of the leaf, and the crack of the petiole . It helps reduce the uneven yields between years.
---
Some crops
Crop


Recommend to use
Peas and beans, green beans, black beans, pigeonpea ,cowpeas, chickpeas, soybeans, etc.

Foliar spray 500-600 times

Drip irrigation :300 times

Use once every 10-15 days

3-4 times continuous works better

Bananas, pineapples, papayas, mangoes, apples, grapes and other fruits

Foliar spray 800-1000 times

Use once every 10-15 days

3-4 times continuous works better

Citrus,orange

Foliar spray 800-1000 times

Use once every 10-15 days

3-4 times continuous works better

Watermelon, melon, etc

Foliar spray 800-1000 times

Drip irrigation :400 times

Use once every 10-15 days

3-4 times continuous works better

Cabbage, celery, baby dish, etc

Foliar spray 600-800 times

Drip irrigation :300 times

Use once every 10-15 days

3-4 times continuous works better

Potato, sweet potato, Taro, etc

Foliar spray 500-600 times

Drip irrigation :300 times

Use once every 10-15 days

3-4 times continuous works better

Tomato, pepper, eggplant, etc

Foliar spray 500-600 times

Drip irrigation :300 times

Use once every 10-15 days

3-4 times continuous works better

Rice or paddy

Foliar spray 800-1000 times

Use once every 10-15 days

3-4 times continuous works better

Cocoa and coffee

Foliar spray 500-600 times

Use once every 10-15 days

3-4 times continuous works better
ANALYSIS
| Analysis | Wt/Vol | Wt/Wt* |
| --- | --- | --- |
| Boron (B) | 150g/L | 10.94% |
| Organic Matters (OM) | 120g/L | 8.75% |
| Appearance | | Light yellow or colorless transparent |
| PH value( dilution in water 1:250) | | 7.5-8.5 |
| Solubility | | miscible with water |
| Density @20℃ | | 1.35-1.40 |
| Limited element mg/kg | | Hg≤5, As≤10,Cd≤10,Pb≤50,Cr≤50 |