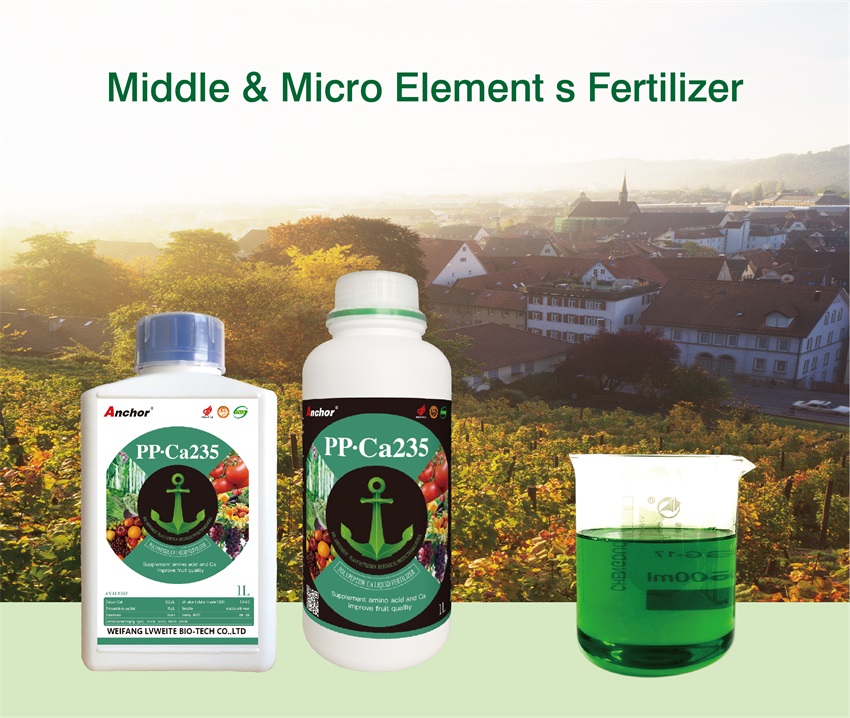 CHARACTERISTICS
This product adopts active peptide chelating metal ion technology, improves calcium ion activity, and is more easily absorbed and used by crops. It can quickly correct calcium deficiency symptoms of crops. It is an upgraded product of traditional calcium fertilizer.
---
FUNCTION
-- Prevent the symptoms such as bitter pox, water center, cracked fruit, and deformed fruit caused by calcium deficiency in fruit tree crops;
-- Prevent the symptoms of umbilical rot, fruit cracking, heart rot, and dry heart burning caused by calcium deficiency in vegetable crops;
---ɑ- Peptides can promote the absorption and utilization of many elements, promote the healthy growth of crops, and better improve the resistance of crops to harsh environments;
--- Improve fruit hardness, improve fruit quality, extend preservation period, and increase yield.
---
Some crops
Crop


Recommend to use
Peas and beans, green beans, black beans, pigeonpea ,cowpeas, chickpeas, soybeans, etc.

Foliar spray 500-600 times

Drip irrigation :300 times

Use once every 10-15 days

3-4 times continuous works better

Bananas, pineapples, papayas, mangoes, apples, grapes and other fruits

Foliar spray 800-1000 times

Use once every 10-15 days

3-4 times continuous works better

Citrus,orange

Foliar spray 800-1000 times

Use once every 10-15 days

3-4 times continuous works better

Watermelon, melon, etc

Foliar spray 800-1000 times

Drip irrigation :400 times

Use once every 10-15 days

3-4 times continuous works better

Cabbage, celery, baby dish, etc

Foliar spray 600-800 times

Drip irrigation :300 times

Use once every 10-15 days

3-4 times continuous works better

Potato, sweet potato, Taro, etc

Foliar spray 500-600 times

Drip irrigation :300 times

Use once every 10-15 days

3-4 times continuous works better

Tomato, pepper, eggplant, etc

Foliar spray 500-600 times

Drip irrigation :300 times

Use once every 10-15 days

3-4 times continuous works better

Rice or paddy

Foliar spray 800-1000 times

Use once every 10-15 days

3-4 times continuous works better

Cocoa and coffee

Foliar spray 500-600 times

Use once every 10-15 days

3-4 times continuous works better
ANALYSIS
| Analysis | Wt/Vol | Wt/Wt* |
| --- | --- | --- |
| Calcium | 220g/L | 14.19% |
| Polypeptide ( poly-ɑ amino acid ) | 15g/L | 0.97% |
| Appearance | | Green |
| PH value( dilution in water 1:250) | | 5.0-5.5 |
| Solubility | | miscible with water |
| Density @20℃ | | 1.55-1.65 |
| Limited element mg/kg | | Hg≤5, As≤10,Cd≤10,Pb≤50,Cr≤50 |