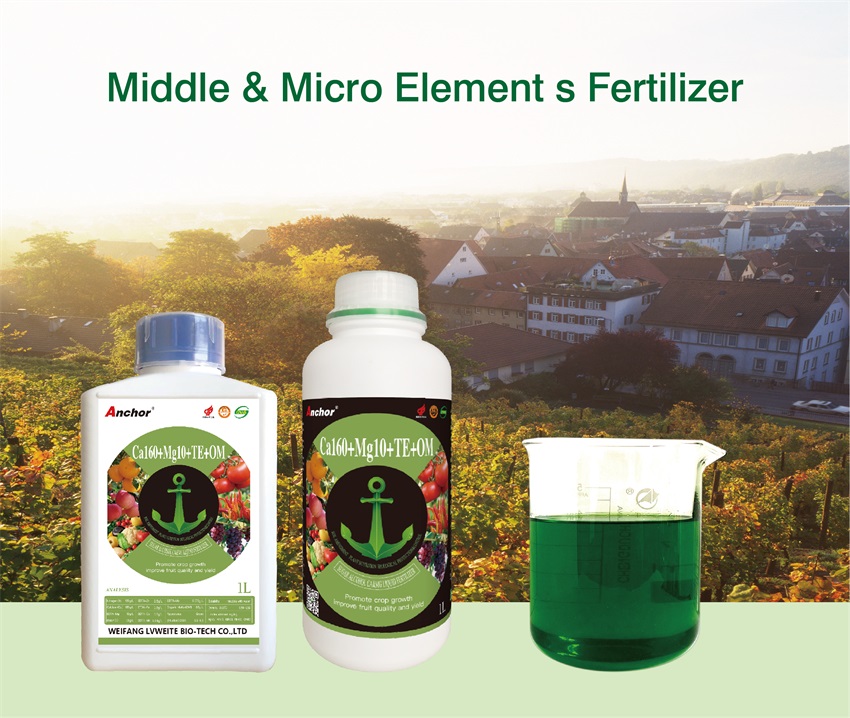 Characteristics
1. Double chelating process:
Calcium ions and Magnesium ions are formed into organic molecules through the double chelating process, so it is easily to be absorbed by leaf, root hair and root tip for better utilization .
2. Double channel delivers : Can be delivered by catheter and sieve tube,quickly supplement calcium, and promote the healthy growth of root, stem, leaf,flower and fruit.
3. Unique recipe : Each Liter contains 160g pure calcium , 10g magnesium and full complements of trace elements, which gives more balanced and higher efficient nutrients. It is a scientific ratio of middle and trace elements, suitable for various water quality.
Function
1. Prevents the crops from stunted plant, growing point atrophy, bitter pit, blossom-end rot, edge rot, tip burn and new leaf withered caused by Ca deficiency.
2. Improves the anti-capabilities of disease and stress resistance.
3. Improves texture of fruit and vegetable, which is convenient for storage and transportation.
---
Some crops
Crop


Recommend to use
Peas and beans, green beans, black beans, pigeonpea ,cowpeas, chickpeas, soybeans, etc.

Foliar spray 500-600 times

Drip irrigation :300 times

Use once every 10-15 days

3-4 times continuous works better

Bananas, pineapples, papayas, mangoes, apples, grapes and other fruits

Foliar spray 800-1000 times

Use once every 10-15 days

3-4 times continuous works better

Citrus,orange

Foliar spray 800-1000 times

Use once every 10-15 days

3-4 times continuous works better

Watermelon, melon, etc

Foliar spray 800-1000 times

Drip irrigation :400 times

Use once every 10-15 days

3-4 times continuous works better

Cabbage, celery, baby dish, etc

Foliar spray 600-800 times

Drip irrigation :300 times

Use once every 10-15 days

3-4 times continuous works better

Potato, sweet potato, Taro, etc

Foliar spray 500-600 times

Drip irrigation :300 times

Use once every 10-15 days

3-4 times continuous works better

Tomato, pepper, eggplant, etc

Foliar spray 500-600 times

Drip irrigation :300 times

Use once every 10-15 days

3-4 times continuous works better

Rice or paddy

Foliar spray 800-1000 times

Use once every 10-15 days

3-4 times continuous works better

Cocoa and coffee

Foliar spray 500-600 times

Use once every 10-15 days

3-4 times continuous works better
ANALYSIS
| Analysis | Wt/Vol | Wt/Wt* |
| --- | --- | --- |
| Nitrogen (N) | 150/L | 10% |
| Calcium (Ca) | 160g/L | 10.67% |
| Magnesium (Mg) | 10g/L | 0.67% |
| Boron (B) | 1.5g/L | 0.1% |
| Zinc (EDTA-Zn) | 2.5g/L | 0.17% |
| Iron (EDTA-Fe) | 0.5g/L | 0.033% |
| Copper (EDTA-Cu) | 0.5g/L | 0.033% |
| Manganese (EDTA-Mn) | 0.24g/L | 0.016% |
| Molybdenum (EDTA-Mo) | 0.075g/L | 0.005% |
| Organic Matters (OM) | 80g/L | 5.33% |
| Appearance | | Green |
| PH value( dilution in water 1:250) | | 5.5-6.5 |
| Solubility | | miscible with water |
| Density @20℃ | | 1.50-1.60 |
| Limited element mg/kg | | Hg≤5, As≤10,Cd≤10,Pb≤50,Cr≤50 |