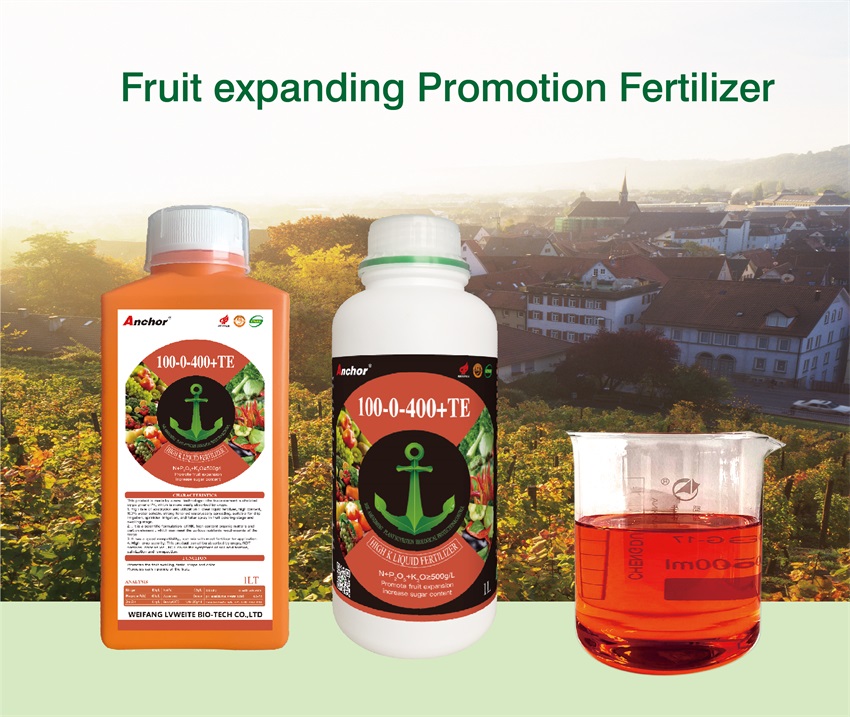 CHARACTERISTICS
This product is made by a new technology--the trace element is chelated by polymeric PK, which is more easily absorbed by crops.
1. High rate of absorption and utilization : clear liquid fertilizer, high content, 100% water soluble, strong foliar adhesion,easily spreading, suitable for drip irrigation, sprinkler irrigation, and foliar spray in fruit coloring stage and swelling stage.
2. . It is a scientific formulation of NK, high content organic matters and carbon element , which can meet the various nutrients requirements of the crops.
3. It has a good compatibility,can mix with most fertilizer for application.
4. High crop security: This product can all be absorbed by crops, NOT contains chlorine ion , NOT cause the symptoms of soil acidification, salinization and compaction.
---
FUNCTION
Promotes the fruit swelling, taste, shape and color
Promotes early ripening of the fruit.
---
Some crops
Crop


Recommend to use
Peas and beans, green beans, black beans, pigeonpea ,cowpeas, chickpeas, soybeans, etc.

Foliar spray 500-600 times

Drip irrigation :300 times

Use once every 10-15 days

3-4 times continuous works better

Bananas, pineapples, papayas, mangoes, apples, grapes and other fruits

Foliar spray 800-1000 times

Use once every 10-15 days

3-4 times continuous works better

Citrus,orange

Foliar spray 800-1000 times

Use once every 10-15 days

3-4 times continuous works better

Watermelon, melon, etc

Foliar spray 800-1000 times

Drip irrigation :400 times

Use once every 10-15 days

3-4 times continuous works better

Cabbage, celery, baby dish, etc

Foliar spray 600-800 times

Drip irrigation :300 times

Use once every 10-15 days

3-4 times continuous works better

Potato, sweet potato, Taro, etc

Foliar spray 500-600 times

Drip irrigation :300 times

Use once every 10-15 days

3-4 times continuous works better

Tomato, pepper, eggplant, etc

Foliar spray 500-600 times

Drip irrigation :300 times

Use once every 10-15 days

3-4 times continuous works better

Rice or paddy

Foliar spray 800-1000 times

Use once every 10-15 days

3-4 times continuous works better

Cocoa and coffee

Foliar spray 500-600 times

Use once every 10-15 days

3-4 times continuous works better
ANALYSIS
| | | |
| --- | --- | --- |
| Nitrogen (N) | 100g/L | 6.89% |
| Potassium(K2O) | 400g/L | 27.58% |
| Znic (EDTA-Zn) | 0.4g/L | 0.027% |
| Iron (EDTA-Fe) | 0.6g/L | 0.041% |
| Organic Matters (OM) | 100g/L | 6.89% |
| Appearance | | Red |
| PH value( dilution in water 1:250 | | 6.5-7.5 |
| Solubility | | miscible with water |
| Density@20℃ | | 1.40-1.50 |
| Limited element mg/kg | | Hg≤5, As≤10,Cd≤10,Pb≤50,Cr≤50 |