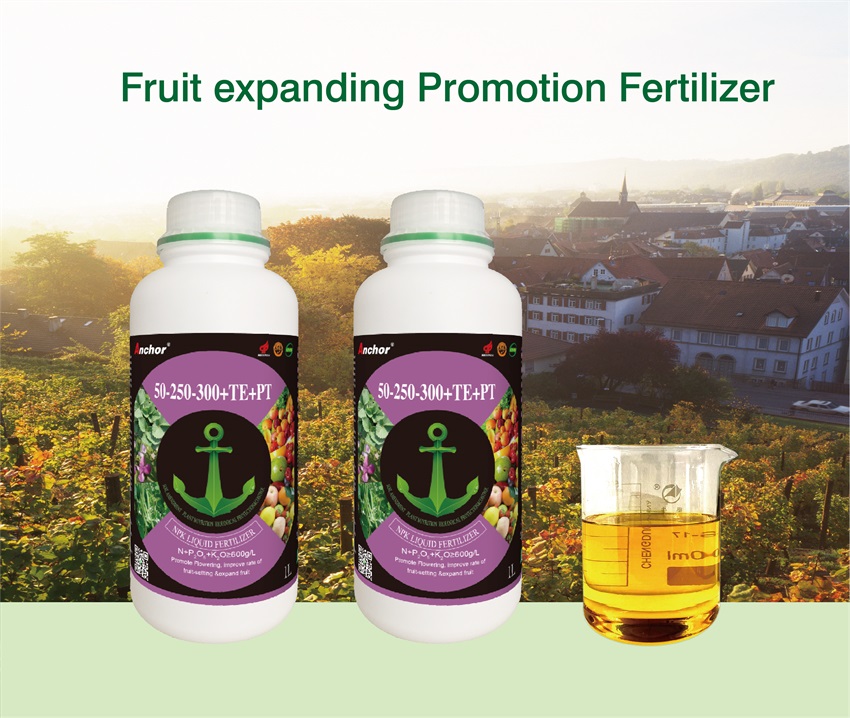 CHARACTERISTICS
This product adopts our company's unique microparticle suspension technology to chelate lipid compounds, proteins and total nutrients together in the form of microparticles, with comprehensive nutrients, good water solubility, and high rate of absorption and utilization. Suitable for drip irrigation, spray irrigation and foliar spray in crop seedling stage, flowering period, root development stage and fruit expansion stage.
---
FUNCTION
1. The polypeptide α-amino acid contained in this product is the main component of the protein and is the most important amino acid in the organism. It can be directly absorbed and used by plants. After use, it can promote the rapid rooting of plants and promote the healthy growth of leaves and plants, and will improve plant resistance to adverse environments and pests.
2. The high content of phosphorus and potassium conducive to crop absorption, can improve crop photosynthesis, promote root system development, promote pollen tube elongation, enhance the function of flower organs, make crops bloom early, increase the sitting rate, prevent flowers falling flowers, fruit falling , and promote fruit expansion. Improve fruit quality and yield.
3. This product can be completely absorbed by crops, will not remain in the soil, does not contain chloride ions, will not cause soil acidification, salinization and soil compaction, this product contains a lot of organic matter and buffer ions, can adjust the pH value, improve the soil microbial environment, protect the balance of soil flora, It is an ECO product.
---
Some crops
Crop


Recommend to use
Peas and beans, green beans, black beans, pigeonpea ,cowpeas, chickpeas, soybeans, etc.

Foliar spray 500-600 times

Drip irrigation :300 times

Use once every 10-15 days

3-4 times continuous works better

Bananas, pineapples, papayas, mangoes, apples, grapes and other fruits

Foliar spray 800-1000 times

Use once every 10-15 days

3-4 times continuous works better

Citrus,orange

Foliar spray 800-1000 times

Use once every 10-15 days

3-4 times continuous works better

Watermelon, melon, etc

Foliar spray 800-1000 times

Drip irrigation :400 times

Use once every 10-15 days

3-4 times continuous works better

Cabbage, celery, baby dish, etc

Foliar spray 600-800 times

Drip irrigation :300 times

Use once every 10-15 days

3-4 times continuous works better

Potato, sweet potato, Taro, etc

Foliar spray 500-600 times

Drip irrigation :300 times

Use once every 10-15 days

3-4 times continuous works better

Tomato, pepper, eggplant, etc

Foliar spray 500-600 times

Drip irrigation :300 times

Use once every 10-15 days

3-4 times continuous works better

Rice or paddy

Foliar spray 800-1000 times

Use once every 10-15 days

3-4 times continuous works better

Cocoa and coffee

Foliar spray 500-600 times

Use once every 10-15 days

3-4 times continuous works better
ANALYSIS
| | | |
| --- | --- | --- |
| Nitrogen(N) | | 50g/L |
| Phosphate ( P2O5) | | 250g/L |
| Potassium(K2O) | | 300g/L |
| Molybdenum(Mo) | | 0.2g/L |
| Boron (B) | | 2g/L |
| Peptide | | 20g/L |
| Appearance | | light yellow |
| PH value( dilution in water 1:250 | | // |
| Solubility | | miscible with water |
| Density@20℃ | | // |
| Limited element mg/kg | | Hg≤5, As≤10,Cd≤10,Pb≤50,Cr≤50 |