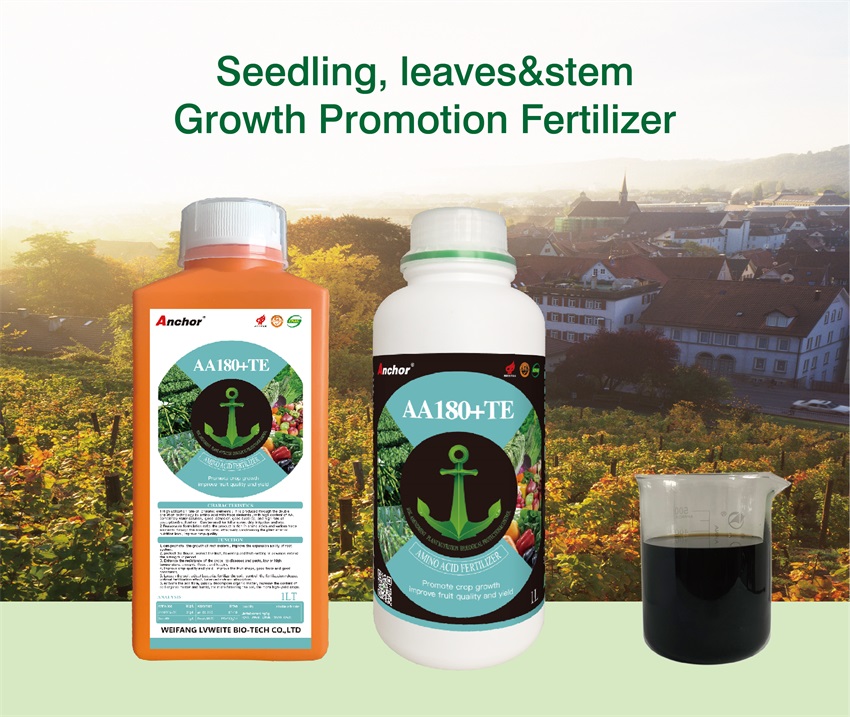 CHARACTERISTICS
1 High utilization rate of chelated elements : It is produced through the double chelation technology by amino acid with trace elements , with high content of AA, completely water solution, good adhesion, good ductility, and high rate of absorption& utilization . Can be used for foliar spray, drip irrigation and etc.
2 Reasonable formulation ratio: the product is rich in amino acids and various trace elements through the scientific ratio, effectively conditioning the plant internal nutrition level, improve crop quality.
---
FUNCTION
1, can promote the growth of root system , improve the expansion ability of root system.
2, protect the flower, protect the fruit, flowering and fruit-setting in advance, extend the sitting fruit period.
3, Enhance the resistance of the crops to diseases and pests, low or high temperature, drought, flood , and lodging
4, Improve crop quality and yield. Improve the fruit shape, good taste and good apperance,
5, Loosen the soil, adjust bacteria, fertilize the soil, control the fertilization release, optimal fertilization effect, balanced nutrient absorption.
6, activate the soil flora, quickly decompose organic matter, increase the content of soil organic matter and humid, the more fattening the soil, the more high-yield crops.
---
Some crops
Crop


Recommend to use
Peas and beans, green beans, black beans, pigeonpea ,cowpeas, chickpeas, soybeans, etc.

Foliar spray 500-600 times

Drip irrigation :300 times

Use once every 10-15 days

3-4 times continuous works better

Bananas, pineapples, papayas, mangoes, apples, grapes and other fruits

Foliar spray 800-1000 times

Use once every 10-15 days

3-4 times continuous works better

Citrus,orange

Foliar spray 800-1000 times

Use once every 10-15 days

3-4 times continuous works better

Watermelon, melon, etc

Foliar spray 800-1000 times

Drip irrigation :400 times

Use once every 10-15 days

3-4 times continuous works better

Cabbage, celery, baby dish, etc

Foliar spray 600-800 times

Drip irrigation :300 times

Use once every 10-15 days

3-4 times continuous works better

Potato, sweet potato, Taro, etc

Foliar spray 500-600 times

Drip irrigation :300 times

Use once every 10-15 days

3-4 times continuous works better

Tomato, pepper, eggplant, etc

Foliar spray 500-600 times

Drip irrigation :300 times

Use once every 10-15 days

3-4 times continuous works better

Rice or paddy

Foliar spray 800-1000 times

Use once every 10-15 days

3-4 times continuous works better

Cocoa and coffee

Foliar spray 500-600 times

Use once every 10-15 days

3-4 times continuous works better
ANALYSIS
| | | |
| --- | --- | --- |
| Amino Acid (AA) | 180g/L | 15.65% |
| Znic(EDTA-Zn) | 20g/L | 1.74% |
| Boron(B) | 2g/L | 0.17% |
| Appearance | | Brown |
| PH value( dilution in water 1:250 | | 4.5-5.0 |
| Solubility | | miscible with water |
| Density@20℃ | | 1.15-1.20 |
| Limited element mg/kg | | Hg≤5, As≤10,Cd≤10,Pb≤50,Cr≤50 |